These were the words of an anxious mother questioning her son after hearing him talking to his team in plumbing jargon. The son was Srinath Ravichandran, Co-Founder and CEO of Agnikul Kosmos, a space tech startup.
Talking to an audience of startups, investors and students on the challenges of building a space tech startup which looks really hi-tech from the outside but involves a lot of very mundane work, Ravichandran, a Wall Street trader turned Aerospace Engineer, reminisced how he was like a plumber most of the time, building things very patiently. Now, Agnikul Cosmos is building launch vehicles capable of taking micro and nanosatellites to Low Earth Orbit on-demand.
Ravichandran was speaking at the Huddle Global 2023, a startup festival organised from November 16-18 by the Kerala Startup Mission (KSUM), on the issues and opportunities of building a space tech startup. Space Tech was among the focus areas with around 350 medium and small enterprises in and around Thiruvananthapuram connected to the space tech ecosystem.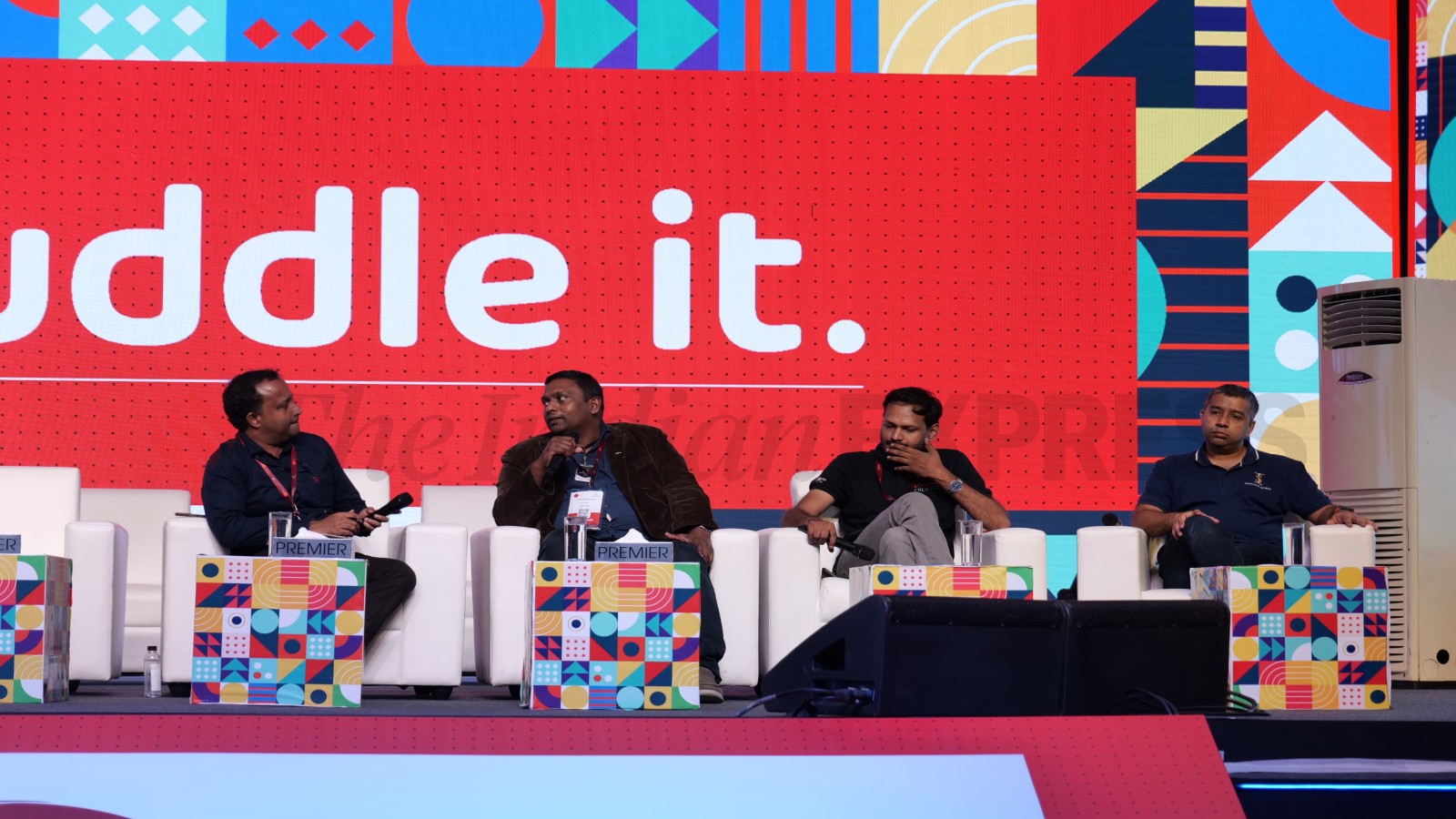 Huddle space (Express Photo)
If Uber code can be written on the beaches…
Huddle Global 2023 also had Kerala StartUp Mission (KSUM) promoting Kerala as a startup destination, with CEO Anoop Ambika highlighting that "if Travis Kalanick the co-founder of Uber could choose Varkala as a tranquil place to develop his idea and write the basic code for the Uber app, others can do it too". Kerala is keen to welcome other startups too to use the state as an incubator, he added.
Ambika said with 38,000 sqkm of urban agglomeration, beaches and tranquility, Kerala presents a golden opportunity for startups. "They should come with an idea and go back with the code."
KSUM also inked an MoU with leading professional services firm Grant Thornton for conducting a strategic study on empowering Thiruvananthapuram as an emerging technology hub and a premier destination for startups.
To make it more interesting, KSUM brought in cricketer Jonty Rhodes who recalled how he used to throw himself at the ball to prevent runs from being taken, and talked about the importance of practice and focus to motivate founders at the event. KSUM has also set up Startup Infinity centres in Brussels and Melbourne, apart from the earlier one in Dubai helping startups from Kerala get a foothold in these countries.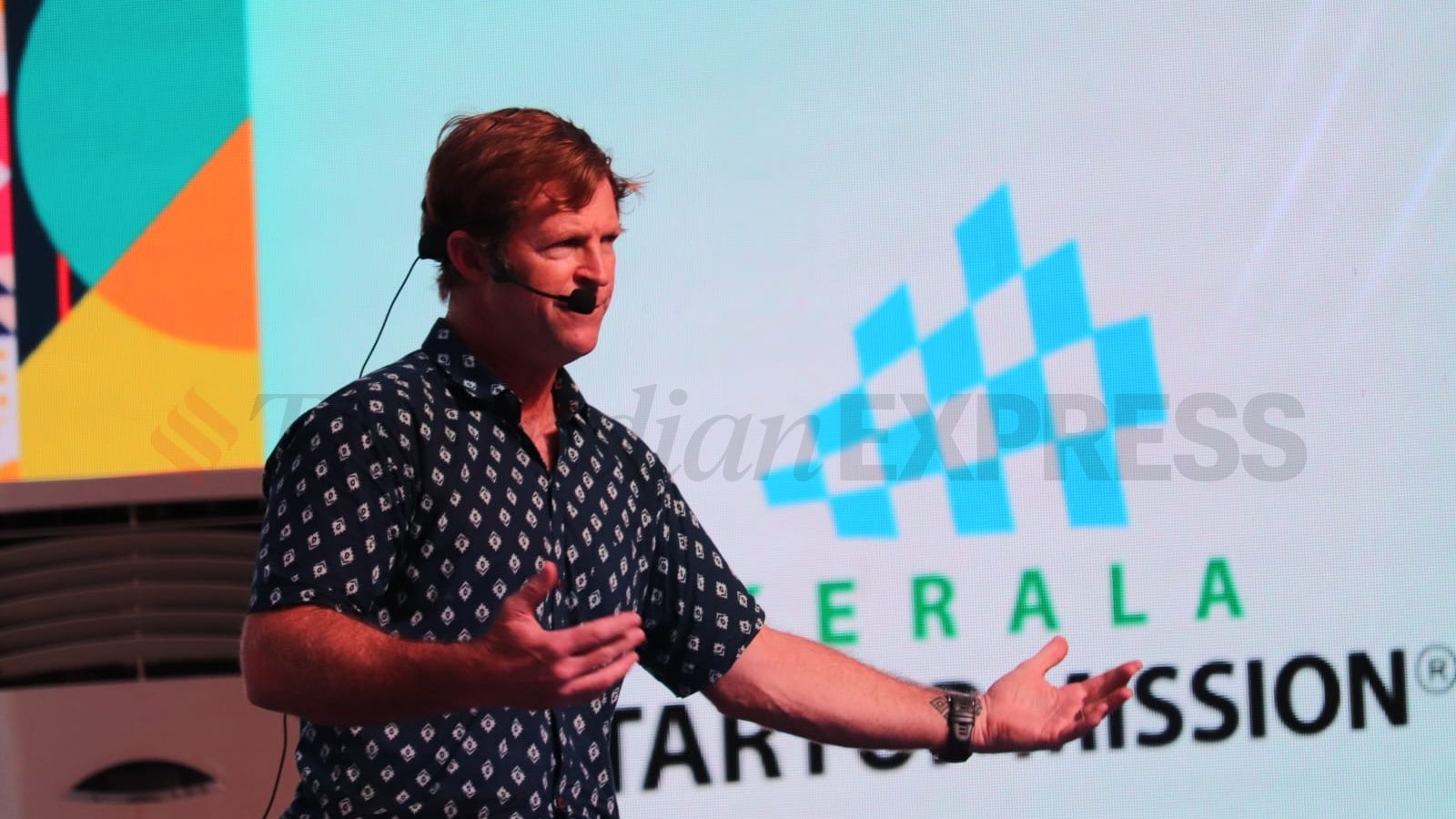 Cricketer Jonty Rhodes at Huddle Global 2023 (Express Photo)
It was not a success talk all the way…
It was not a mere exchange of success stories. Ganesh Krishan, serial investor, promoter director of BigBasket, Home Lane and Fresh Menu and partner at Growthstory.in, said: "Don't ask me about the mistakes I made. It might take the whole evening to recount them. It is like football, don't worry about how many goals you missed, just worry about the goals you scored." He recalled how he was so involved and engaged in the hardware side of the IT story at IT&T (later acquired by iGate), he refused to see the opportunities that Infosys and Wipro saw and exploited. He said the opportunity was so big and staring at the face, and yet he was so immersed in building his business that he missed it. He rued that he could be owning a software giant now, if not for his lack of sensitivity to the changes happening around him.
The funding winter…
Anil Joshi of Unicorn India Ventures was optimistic about startups in Kerala and said almost 40 per cent of his investment portfolio was from Tier 2 cities. He has over time focussed on picking winners and, either by choice or accident, most of the winners had come from smaller towns, many of them from Kerala. Joshi predicted that 50 per cent of the investment portfolios of all venture capitalists would be from Tier 2 and Tier 3 cities of India by 2025.
Most investors talked about the end of high valuations, and the need for value in the startup either through technology or through innovation. Some even called for a relook at the governance framework for startups, asking if investors and venture funds could insist on so much paperwork they could also insist on an independent board which could look after the interests of other stakeholders like customers, employees instead of merely looking at the financial interests of the investors.
There were also discussions about the rising influence of Tier 2 and Tier 3 cities and how they were perhaps fighting off the 'funding winter'. Anantha Nageswaran, Chief Economic Advisor to Government of India, said 49 per cent of startups are from tier-2 and tier-3 cities, which has turned out to be a game-changer as the business advantages in these locations enable entrepreneurs to operate at lower costs as compared to tier-1 cities. "Historically, a perception was held that small towns were difficult places to conduct business, but with the internet penetration, better physical infrastructure, road, rail and air connectivity this is no longer true".
Interesting startups…
Among the 100-odd startups that showcased their products was Aakri, a waste management company focused on domestic biomedical waste segment filtered using clean green tech. It is also an online platform where buyers and sellers in the scrap industry can connect and trade. Aakri app is a solution for those confused about disposing of biomedical waste. If you register on the app, their representatives will come home or to the office and collect the refuse, including e-waste, apart from biomedical waste.
Robotic manhole cleaner Bandicoot was a big draw at the event with them launching Mini, a new affordable version of their product the Bandicoot. The company Gen Robotics, has changed India's urban sanitation landscape with its robotics scavenger. By leveraging robotics and artificial intelligence, the Bandicoot Robot enters and cleans manholes, eliminating the need for sanitation workers to expose themselves to dangerous environments. The company was founded in 2017 and is considered a social impact success story. The product is being used by local bodies, companies and government agencies in 22 states.
Another interesting product at the expo was SafetyWhat a SaaS platform that uses AI, computer vision and IoT to analyse and prevent workplace hazards and accidents It uses AI analytics to detect and estimate the risks in unsafe workspace activities or equipment failures and trigger automated alerts for response teams. SafetyWhat AI uses the power of over 50 advanced AI detection models to proactively identify and address potential safety hazards, ensuring the well-being of the workers.
Superr, a digital parenting assistant, helps parents monitor their kids' phone and app usage helping to protect them online. It also helps them focus better, become more disciplined and improves their productivity. It automatically blocks adult content and enforces safe search across all major search engines and helps you gain insights into your child's most contacted friends on calls, SMS and Whatsapp and keeps unwanted contacts at bay.