Chief minister K Chandrasekhar Rao promises to set up food processing units across Telangana if BRS is voted power again | Telangana Election News – Times of India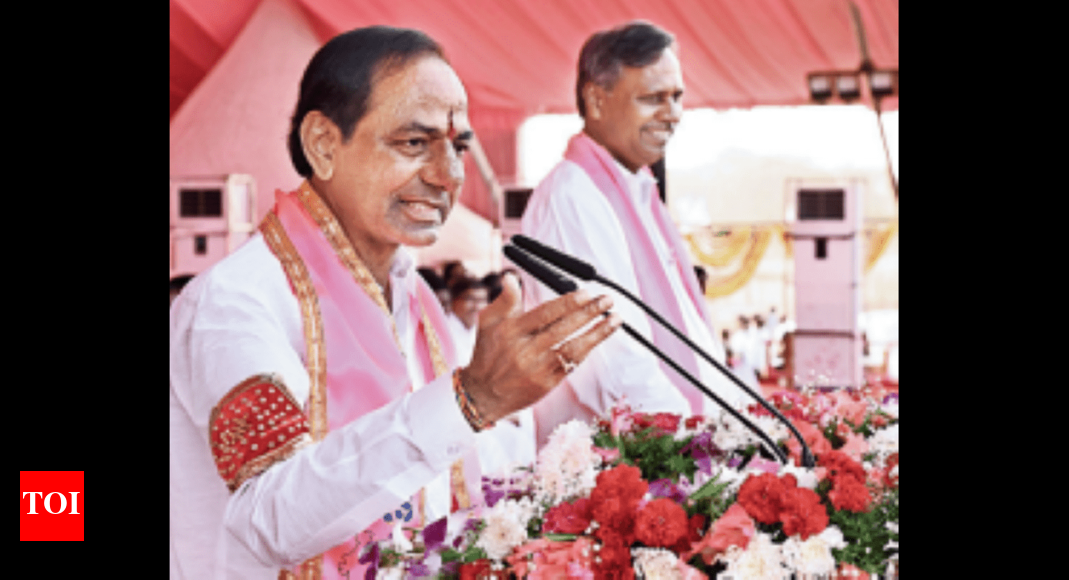 MANAKONDUR: As Telangana became successful in producing huge quantities of paddy, BRS, if voted to power, will be setting up food processing industries everywhere which will become employment resources for local youth, Chief Minister K Chandrasekhar Rao said on Monday. Addressing a poll rally, Rao, also known as KCR also promised to abolish the "fitness certificate" system which is required to be taken by autorickshaw drivers every year.
Hitting out at the Congress, he said it was that party which merged Telangana with Andhra Pradesh (in 1950s) against the people's will.
The BRS chief reiterated that the former Prime Minister Indira Gandhi's tenure was plagued by starvation deaths, naxal movements and encounters.
He recalled that until former Chief Minister N T Rama Rao (undivided Andhra Pradesh) came to power and offered rice at Rs 2 per kg to people, it was only a life of starvation.
He also slammed the BJP and Prime Minister Narendra Modi for allegedly not sanctioning even one medical college and Navodaya School to Telangana.
"Since we have been producing crores of tonnes of paddy, we will be setting up food processing units wherever they are required so that local people will get employment. We will be constructing double bedroom houses on a war-footing, in the next five years we will construct houses," he said.
Rao said due to the measures and pro-farmer welfare schemes by his government, the state now tops with three crore tonnes of paddy production annually in the country annually.
"As many as 7,500 procurement centres were set up across the state to purchase paddy from farmers, though the government incurred loss to some extent. Today, we are producing three crore tonnes of paddy," he said, listing out the measures taken for the growth of the agriculture sector.
Attacking the Congress, he said leaders of that party say that KCR is wasting taxpayers money and giving Rythu Bandhu (a support scheme for ryots) to farmers.
"Is Rythu Bandhu a wasteful expenditure, he asked people, who enthusiastically shouted "no."
If the BRS is voted to power again, not only continuing the Rythu Bandhu scheme, but the amount will also be increased to Rs 16,000 gradually from the existing Rs 10,000, he promised.
He charged that the Congress leaders were making irresponsible statements that 24-hour free power to farmers is not required and just three hours is sufficient.
He said the grand old party says if voted to power, it will abolish "Dharani," an integrated land administration portal which will lead to the regime of corrupt officials and middlemen.
Alleging that the NDA Government had asked the state government to fix meters to agriculture pump sets, Rao said he refused to implement it and as result the state lost Rs 25,000 crore fund from the Centre during the last five years.
"Why should we vote for the BJP which has not given even a single medical college and Navodaya school?…voting for the BJP is dropping your vote in the drain," he said.
Exuding confidence that the BRS will be coming back to power for a third time, KCR said he got some survey results indicating the party's victory in the November 30 Assembly polls.