Red Bull boss Christian Horner has ruled out a move for Sir Lewis Hamilton to join his team, with the Briton's contract at Mercedes expiring at the end of the season.
Mercedes boss Toto Wolff admitted at last weekend's Saudi Arabian Grand Prix that he would have "no grouch" with the seven-time champion if he were to leave the Silver Arrows after a "year or two" without improvement.
Red Bull ended eight seasons of Mercedes constructors' dominance in a 2022 season that saw Mercedes only win one race and, for the first time in his Formula One career, Hamilton was unable to stand on the top step of the podium.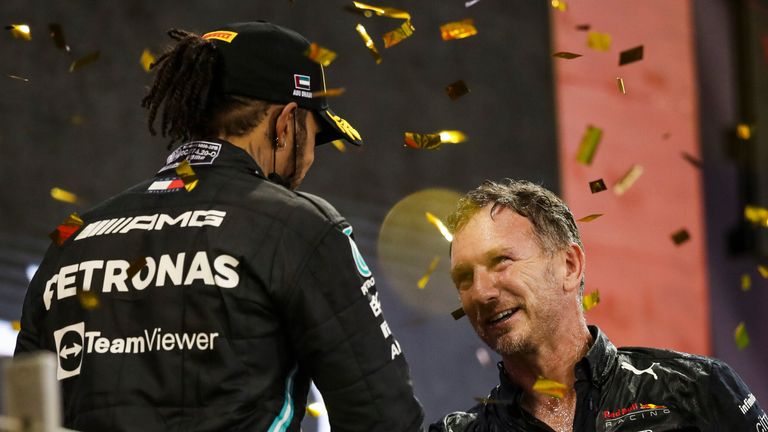 Red Bull have shown that they are the team to beat again this year, with back-to-back one-two finishes in Bahrain and Saudi Arabia, with defending champion Max Verstappen winning the opening race while Sergio Perez took victory on Sunday.
Horner was asked by Sky News' Ian King whether Hamilton could make a shock move to the reigning constructors' champions.
"What Lewis has achieved in F1 is second to none," said Horner, "but we're very happy with the drivers that we have.
"They're committed as a pair not only this season but the next season as well. So, I can't see where we would be able to accommodate Lewis."
Despite their relatively poor start to the season, which leaves them third in the constructors' championship, Horner went on to predict a resurgent Mercedes and Hamilton.
"I'm sure they're going to sort their issues out – we're certainly not writing him off yet," said the 49-year-old.
"We're hearing about big Mercedes upgrades, I'm sure Ferrari aren't happy with their current position as well.
"So, we're fully expecting things to converge quickly."
Wolff says he does not expect to see Hamilton leave Mercedes at the end of the season.
Red Bull have Saudi Arabian Grand Prix winner Perez under contract until the end of 2024, while Verstappen has a deal until the end of 2028.
Red Bull set for season-long 'friction'?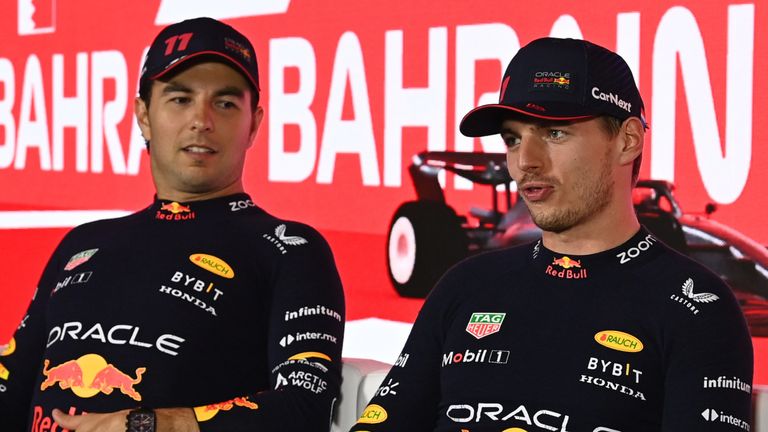 Max Verstappen leads his Red Bull team-mate Sergio Perez by just one point after steeling the fastest lap of the race on the last lap in Jeddah against the initial advice of his team.
Horner was also asked about managing his drivers, who have won a race each and look to be competing head-to-head for the 2023 title, and suggested that the two drivers could be left to fight it out between themselves.
"For us as a team, the responsibility is to give both drivers the same chance, the same opportunity, the same car – it's then down to what they do on the circuit," said Horner.
"We've got two great drivers in Max and Sergio, there's a healthy respect between the two of the them, I expect that to continue."
During the Sky Sports F1 Podcast's review of the Saudi Arabia Grand Prix, Sky Sports F1's David Croft discussed the "friction" between the Red Bull pair.
"In the cooldown room after the race, there was still friction between the two drivers," said Croft.
"Checo [Perez] was not a happy man at being asked to do target lap times that were slower than his team-mate.
"Perez is in the last year of his contract and if there are no signs of another deal coming, what's in it for Sergio to help his team-mate in the way Red Bull would like?
"I think there are a few banana skins down the road.
"As for Max's dad, all is clearly not well in Jos Verstappen's mind when his son finishes and leads the world championship, yet he can barely break a smile!"
Watch the Australia Grand Prix live on Sky Sports F1 between March 31 and April 2. Get Sky Sports